Why Lavender Essential Oil Should Be In Every Home First Aid Kit
Lavender essential oil is one of the most widely known and used aromatherapy oils. It is an extremely popular essential oil for families, especially for kids and infants. Especially when Lavender is so versatile, in its therapeutic properties, extremely calm, soothing, and generally safe.
Why Your Lavender Essential Oil Should Be Pure And High Grade Quality
Lavender essential oil is distilled from the lavender plant which grows in rural areas and gardens all over the world.
But it is important when buying lavender oil to check it is 100% pure essential oil and of high-grade quality.
If you want to use lavender essential oil for therapeutic use you want to know it has a high therapeutic level unfortunately not all brands of essential oils have the same quality.
I personally buy from NYR Organics and dOTERRA. I am a consultant for NYR Organics UK.
The Use Of Lavender In The Pharmaceutical Industry
Lavender is widely used in the pharmaceutical, skincare, and holistic industry. It is often used in burns treatments and a lavender-oil preparation in gel capsule known as Silexan is used to reduce anxiety. It is also used in a variety of ways in mainstream medicine. One clinical study demonstrated the benefits of Lavender in helping reduce blood pressure and pulse  in those undergoing a  Coronary Angiography.
I began studying aromatherapy over 25 years ago and found it fascinating how much you can treat with essential oil. I loved the fact that aromatherapy gave families a more holistic and safer option than many over the counter prescriptions.
Very quickly my family and friends began to replace their medicine cabinet and first aid kit with essential oils, especially pure lavender.
The Benefits Of Lavender Essential Oil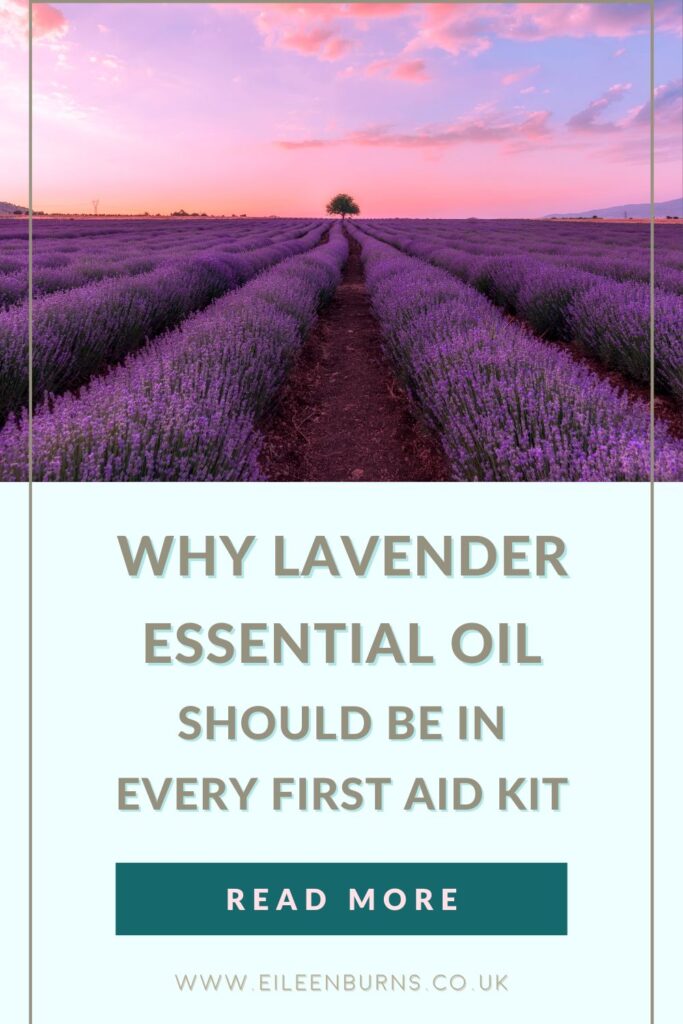 Relaxant: It is well known as a relaxant, for its use in supporting the nervous system. So lavender can be ideal for highly sensitive children who quite like the scent.
Sedating: It can be sedating for most people, the reason why it is so widely used in sleep therapy products, especially bedtime sprays and nighttime oil and bath blends. And some parents find it helpful for ADHD.
Antimicrobial: Lavender has been shown in some situations to help reduce microbial activity.
Analgesic and Anti-inflammatory: This explains why lavender can be useful for bumps, bruises, burns, sport, and other muscular injuries.
Generally, lavender essential oil is used as an aid to reduce anxiety, bumps, bruises, bites, burns, eczema, emotional lability, exhaustion, fear, hot flushes, hyperactivity, insomnia, low mood, panic attacks, PMT, restlessness, stings, stress, sunburn swollen joints, tantrums, temperatures, worry…
How to Use Pure Lavender Essential Oil
Bath:

Add one-two drops of pure essential lavender oil to your child's bath, 2- 3 drops for older kids 12+.
Massage Blend:

Blend one drop of lavender oil with 15ml of carrier oil or unscented pure massage oil and apply to the skin. Infants and toddlers love baby massage it is a great way to encourage healthier bonding and as long it's done gently for about 5-10 minutes it can help them relax or fall asleep. Use 2-3 drops of essential oils for 7-12 years.

Most suitable for children over 2 years.
Spritzer:

Add a few drops of lavender oil to water in a large spray bottle, this can be used to help children cool down or calm down.  So great for holidays.
Compress:

Add a drop of lavender to a wet compress for bums, bruises, bites, headaches or a high temperature.
Aromatherapy Diffuser: Diffuse lavender oil to help your child off to sleep. it can also help reduce some type of bacterial infections.