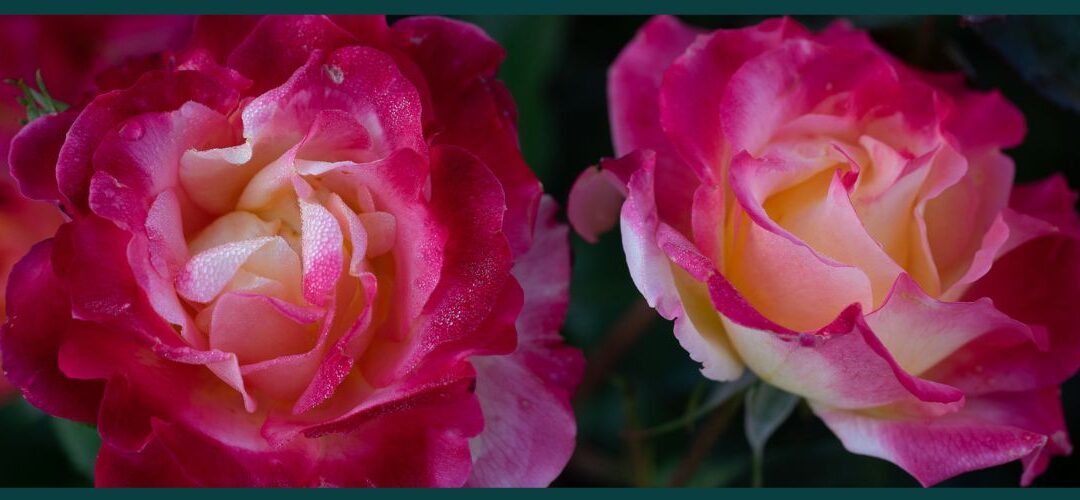 High Vibration Of Wild Rose For Sensitive Souls, Empaths And Lightworkers
High Vibration of Wild Rose Essential Oil and as a skincare product for sensitive skin. Why wild rose and rose oil is a great essential oil for the highly sensitive person or lightworker. Why rose has been so widely used throughout time spiritually and cosmetically. Learn the main difference between rose, wild rose, and rosehip.
What is Wild Rose?
Wild rose is the most commonly used name for certain species of flowering shrubs known as roses that occur naturally. Wild roses are much stronger, healthier, and more vibrant than hybrids that have been cross-bred. The wild rose is well known for its much deeper and rapid root system that seems to survive extreme erosive environments. Rosehip is the fruit of the rose plant.
Vibration Of Wild Rose and Rose
Rose is stated to have a frequency of approximately 320 MHz, wild rose medicine is known for its uplifting and soothing ethereal vibrations.
How To Identify Wild Rose
True wild roses grow without any chemicals or pesticides. According to the Royal Horticultural Society "Wild roses (also known as species roses) mostly have thorny stems, single, often fragrant, early summer flowers, usually in one flush, followed by fruits ('hips') if flowers are not deadheaded…"
Roses And Spirituality
Wild Roses in ancient mythology are regarded as a symbol of love and adoration. The sacred use of roses and rose oil has been used by saints and many different religions it is mentioned in Ancient Sanskrit and Chinese scripts and in ancient Greece was said to be associated with Aphrodite. During the Middle Ages roses were used for medicinal purposes.
Roses have been associated with Mother Mary from early times, in the catholic church rose serves as a symbol of the rosary, but roses has also been associated with St Therese also known as the little flower. The Rose is also regarded as highly spiritual in Islam, by some it is regarded as
Muhammad declared the red rose to be "the manifestation of God's glory" (Schimmel 1975, p. 299)—in particular, the marvelous red rose—as the divine presence that reveals divine beauty. The rose is also known as the flower of Heaven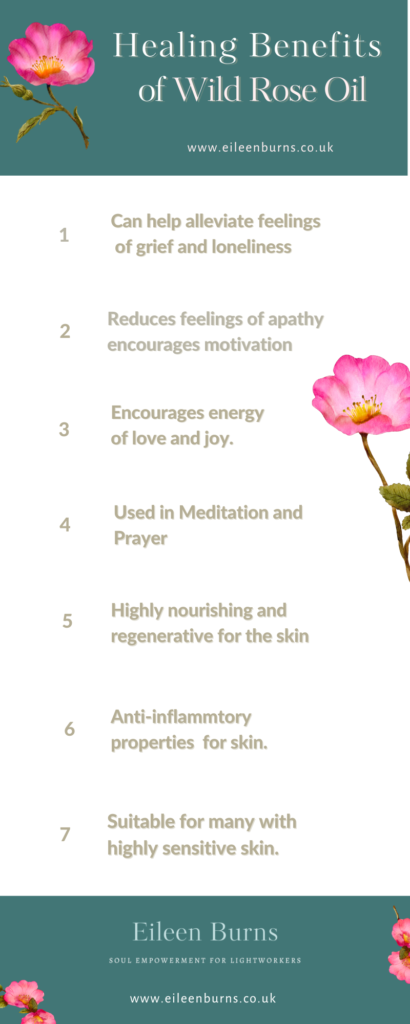 Therapeutic Benefits Of Wild Rose
Rose Essential Oil has a variety of therapeutic benefits. Wild roses support us mentally, emotionally, physically, and spiritually. The ayurvedic and medicinal use of rose has been documented for thousands of years.
Physical Benefits Of Wild Roses: Rosehips which are from the seeds of roses are high in essential fatty acids, minerals, vitamins, and antioxidants. Rose oil from petals is widely known for being highly anti-inflammatory, and helpful in the regeneration of skin cells that is why both rose and rosehip are widely used in cosmetics and skincare products used to treat and reduce scarring, and stretch marks.
Psychological Benefits Of Wild Rose: The soothing and comforting scents of all rose oil's are said to help reduce sadness and low mood associated with grief.
Mental Benefits Of Wild Rose Oil: Both the scent of Rose and its wild species are reputed to help one overcome apathy, and help encourage increased motivation.
Emotional Benefits Of Wild Rose Oil: Brings in the energy of love and a gentle form of joy. It is emotionally and spiritually uplifting.
Spiritual Benefits Of Wild Rose Oil: Roses and its oil are widely used in meditation, prayer, and spiritual and religious celebrations. Roses are said to represent god at work. Many people smell the strong scent of roses during both angelic and other spiritual experiences.
My Favourite Wild Rose Products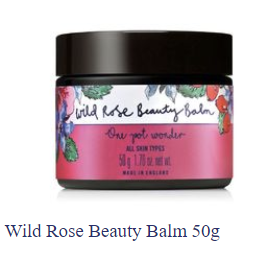 This is one of my, my mum's, and most of my sister's favourite so it tends to be one of those little extras I put in for birthdays and Christmas. This is not just a beautiful balm to soothe nourished skin but can be used as a cleanser or to add some finishing touches to your lips, eyebrows, or cheeks.
The wild rose balm is made with 99% organic ingredients it includes lots of beautiful natural ingredients which include Rosa canina (Wild Rose) fruit oil, Simmondsia chinensis (Jojoba) seed oil*, Cera alba (Beeswax)*, Butyrospermum parkii (Shea butter)*, Cannabis sativa (Hemp) seed oil*, Borago officinalis (Starflower) seed oil*, Pelargonium graveolens (Geranium) flower oil*, Rosmarinus officinalis (Rosemary) leaf oil*, Boswellia carterii (Frankincense) oil, Cymbopogon martini (Palmarosa) herb oil*, Pogostemon cablin (Patchouli) leaf oil*, Ascorbyl palmitate, Tocopherol, Citral, Citronellol, Farnesol, Geraniol, Limonene, Linalool. *Organic. From essential oils. You can buy this product in the larger version or smaller jars. 

This is another amazing rose oil product from NYR Organics, it is a bit lighter and fluid than the balm. It gives a nice nourishing radiance boost that leaves your skin feeling silky smooth. The combination of organic wild rosehip seed oil which is provitamin A-rich and the ultra-moisturising hyaluronic acid and balancing blend of organic geranium and patchouli essential oils, all leave the skin feeling supple with a natural radiant healthy glow.
Ingredients: Aqua (Water), Glycerin, Cetearyl olivate, Palmitoyl tripeptide-5, Rosa canina (Rosehip) fruit oil*, Curcuma longa (Turmeric) root extract, Pelargonium graveolens (Geranium) flower oil*, Boswellia carterii (Frankincense) oil, Rosmarinus officinalis (Rosemary) leaf oil*, Cymbopogon martinii (Palmarosa) herb oil*, Pogostemon cablin (Patchouli) leaf oil*, Sodium hyaluronate, Ascorbyl palmitate, Sorbitan olivate, Levulinic acid, Xanthan gum, Potassium sorbate, Citral, Citronellol, Coumarin, Eugenol, Farnesol, Geraniol, Limonene, Linalool. *Organically produced ingredient; Natural constituent of essential oils listed Made with 82% organic ingredients.
I love this rose glow facial oil as a night time treat for the skin. But since I tend to have slightly dry skin that easily gets dehydrated, I also use this as a base before makeup during the colder months. Ingredients: Caprylic/Capric Triglyceride, Triheptanoin, Vitis Vinifera – Grape Seed Oil*, Sunflower Seed Oil,* Ethyl Olivate, Shea Butter Ethyl Esters, Rosa Canina Fruit Oil*, Pelargonium Graveolens Flower Oil,* Boswellia Sacra Resin Oil*, Rosemary Leaf Oil*, Cymbopogon Martini Oil*, Pogostemon Cablin Leaf Oil*, Olive Leaf Extract*, Geraniol, Citronellol, Limonene, Linalool, Citral, Farnesol.
*ORGANIC. FROM ESSENTIAL OILS. Of total ingredients: 100% natural origin, 30% organic.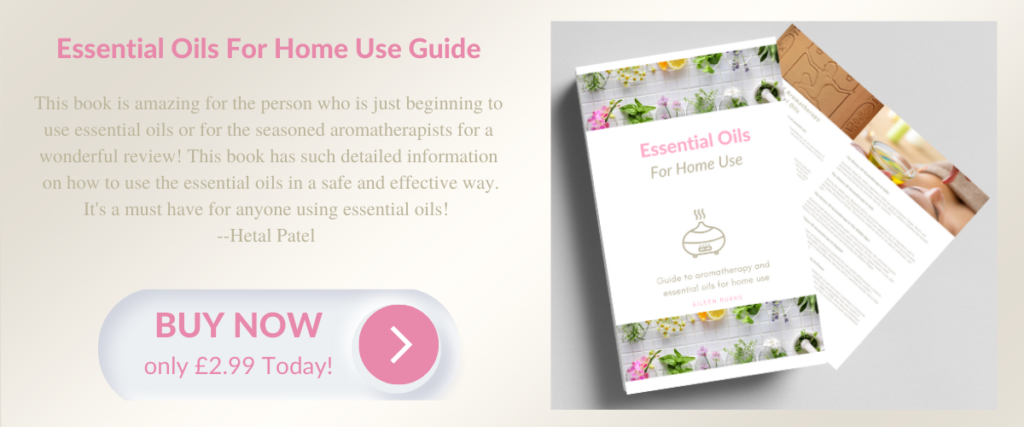 This lovely rose soap bar leaves not only your skin more soft and smooth, it is soothing scent is extremely comforting, uplifting whilst relaxing, perfect after a busy, stressful or tiring day. This is another one of NYR Organic products that makes a lovely gift.
Ingredients: Sodium Cocoate**, Aqua/Water, Glycerin**, Coconut Acid, Butyrospermum Parkii (Shea) Butter*, Sodium Citrate, Rosa Canina Fruit Oil*, Citrus Paradisi (Grapefruit) Peel Oil*, Pelargonium Graveolens Flower Oil*, Pogostemon Cablin Leaf Oil*, Sodium Chloride, Boswellia Sacra Resin Oil*, Cananga Odorata Flower Oil, Limonene, Citronellol, Geraniol, Linalool, Benzyl Benzoate.
*Organic. **Organic Origin. From Essential Oils. Of total: 100% natural origin, 71% organic.
Organic Rosehip Oil
Organic Rosehip Oil nourishes delicate, dry, or sun-damaged skin. Organic Rosehip Oil is rich in essential fatty acids, which encourage the production of the prostaglandins involved in tissue healing and regrowth. EFAs also help to promote cellular development and collagen synthesis, which is important for keeping skin smooth and supple.
This Rosehip oil 50 ml is made from the fruit seeds of the Rose Canina it is 100% organic
Rose Essential Oils
And of course, I have to mention the Rose Absolute Essential Oil and Rose Otto Essential Oil gorgeous rose essential oils you can use to add to your bath, blend as a massage oil, or use to make your own skincare products.
Wild Rose and Rose products are beautiful gifts not just for sensitive and empaths but they are great for healers and therapists who want to wear something light and uplighting that helps them radiate the vibration of compassion in their work without suffering from compassion fatigue.
Healing Benefits Of Rose Oil And Rose Absolute Oil