About Eileen Burns
Spiritual Purpose Coach & Healer, Therapist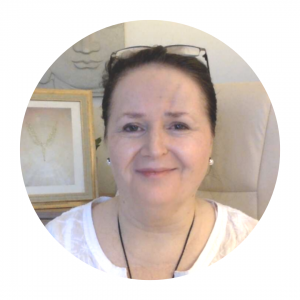 Hi I am Eileen Burns
I am a highly sensitive empath, healer and coach who helps you live more of your life and soul purpose, through inner child healing, soul purpose and soul client coaching and mentoring sessions.
My own journey into healing began in the early 90's seeking answers and help for a wide range of chronic and rare health challenges that started in early childhood. I feel so fortunate to have found my passion be able to live so much of my life and soul purpose. To me living your purpose is one of the greatest joy's. Despite having lived with a wide range of  health challenges and disabilities that impacted my  I have found great joy in my passion and purpose. And I would love to help you experience more of that to.
University Level
•Advanced Stress Advisor*
•Stress Advisor*
•Cognitive Behaviour Therapy*
•Life & Spiritual Coaching
Diplomas
•Anatomy
•Aromatherapy
•Colour Therapy
•Flower Essences
•Indian Head Massage
Certificates, Courses & Training
Traditional Usui Reiki 1& 2, Traditional Usui Reiki Master & Teacher

Handling Stress, Managing Stress,

Laser Therapy – Stress, Weight, Addictions

Guided Visualisation for Therapeutic Use,

Meditation & Relaxation Training, Transcendental Meditation,

Quantum Entrainment

Counselling Certificate, Counselling for M.E., Be M.E. Aware,

Psychology*, Cognitive Psychology*, Biological Psychology*-University Level

Connect Kids 1- Meditation

Infant Baby Massage Instructor

Community Care, Health Issues in the Community Level 1 & 2

Youthwork, Groupwork skills

Anger Management, Assertiveness, Colour for Image, Colour Therapy, Time Management,

Ultimate Therapist Course-Coaching, NLP, Hypnotherapy,  Emmeagram

Channeling 1 & 2

Akashic Training
Eileen x
Check out Eileen's latest Free Healing Meditation on Youtube – Open Your Spiritual Heart 
Happy Clients and Customers
"I can definitely with all honesty say that Eileen is a miracle worker. The identify and attract your soul client course is absolutely fantastic. I have had the most amazing ah ha moments because of it. She has succeeded where a lot of others have failed and I am now so clear on my ideal client, my abilities and so so much more. If there were more than five stars I would give them. Thank you Eileen for a wonderful, brilliant and extremely informative course.
***** 
Debora Watts, Silverlight Healing
'Identify Your Soul's Gifts' meditation and workbook is very powerful. The guided meditation was so relaxing, and it helped me look at my life from a new (and less painful) perspective. It made me realise that I have been neglecting one of my major gifts and I need to think about how I can bring this back into my life. It also made me see my major life challenges differently, in a way that strengthens me and gives me purpose, as I can use my experience to help others in a genuine and soulful way.
***** 
Jen, Real Life Reiki
"This lady is amazing! Both Eileen and The Spiritual Marketing club have been a huge support and an effective resource in helping me to set up and establish my small online business. Eileen has taught me about the different archetypes and helped me to understand what my main archetype is and how to use that knowledge to attract more soul clients. Through learning about effective branding and the use of colours and symbols, I have been able to easily attract customers who are aligned with my products and services. The units about creating lead magnets and social media marketing have been invaluable in helping me to grow my social media following and increase sales. My holistic design business was only established six months ago but it is going from strength to strength. On a more personal level, Eileen has kept me on my toes and nudged me out of my comfort zone but at the same time, she is always so supportive. Highly recommended."
***** Claire Lavin Rice, Heart Space 4 Kids & Heart Space Studio