11 Common Signs Of Inner Child Wounds, Inner Child Wounding that shows up in our everyday life
So What Is Inner Child Wounds?
Well if we look at the Inner Child, the Inner Child is aspects of the human psyche, the unconscious inner child that is within us all. But the inner child within carries both light and shadow aspects. Those light and shadow aspects of the inner child stem from life experiences and life challenges that may have not been healed.
Examples of light aspects include that sense of awe and magic we see in the inner magical child or innocent child and the shadow aspects include the wounded child and also aspects of the eternal child that doesn't want to take self-responsibility.
Common Causes Of Inner Child Wounds
Common causes of Inner Child Wounding include painful and traumatic experiences, physical, mental, emotional, and sexual abuse as well as neglect. Although deep inner child trauma is usually caused by abuse, neglect, and trauma we all have inner child wounds triggered by normal childhood experiences.
Inner child wounds can be triggered by a deeply embarrassing experience at school, a hurtful moment with a sibling, or a crossword by a parent or caregiver. For those of you who are Empaths or HSP's, those wounds can be triggered by the painful experiences of those around you. A lot of our everyday anxiety and stress is actually triggered by inner child wounding.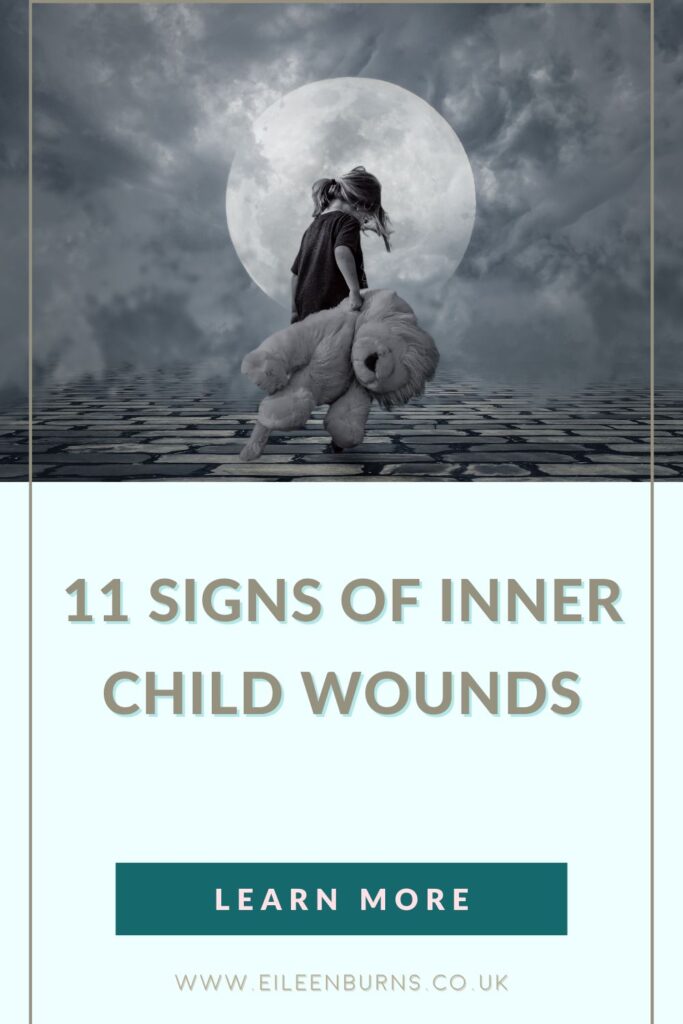 11 Common Signs Of Inner Child Wounding
Avoid Conflict At All Cost
Very Self-Critical
Deep Distrust Or Suspicion Other People
Create Conflict In Relationships, Bit Of A Rebel
Have Challenges Starting And Completing Tasks
Very Highly Motivated, High- Achiever
Bit Of A perfectionist
Fear Of Abandonment
A Bit Of A Hoarder
How To Heal Your Inner Child Wounds
So how do you start heal your inner child wounds?
There are many different approaches to healing the Inner Child, some include nurturing and re-parenting the Inner Child, Internal Family System Therapy, Archetypal and Inner Child Healing.
Accept Your Inner Child Is Wounded:
Well like any form of healing or therapy it is important to recognise your inner child has some wounding. Now as I say that it is important for you to understand at your core, you are not damaged. This sort of view creates so many other problems.
In many ways, it is our unconscious beliefs and patterns, our unconscious stories that keep certain patterns in the psyche that needs to be addressed. Once you accept that aspects of your inner child needs nurturing, needs support it helps encourage more self-awareness and self-care.
Recognise Your Inner Child Needs To Be Loved And Cared For:
The most important thing a child needs is love, acceptance. We are very good at being loving to other people, but most of us seriously struggle to love ourselves. When a child feels wounded mentally, emotionally, physically, or even spiritually that child needs love, that child needs acceptance, that child needs care.
Your Inner Child wounds needs that self-love, that self-care, and that self-acceptance it needs the right type of healing, support and inner child nurturing.

Learn To Listen To Your Inner Child:
An emotionally and mentally healthy child needs to be heard, to be understood by those who are caring for that child. Your Inner Child needs to be heard, so many Inner Child wounds begin with not abuse or trauma, but neglect, even misunderstanding. Take the time to listen to what your Inner Child needs and wants, take time to understand your inner child.
One of the easiest ways to start listening to your Inner Child is getting into the habit of daily meditation and journaling. Meditation should always come first as meditation helps us slow down the monkey mind and become more connected to our internal world. This helps you naturally become aware of those distorted and unhealthy thought patterns and behaviours, those triggers. The more you become aware of these thoughts and behaviours you can start journalling them. Art Journaling can be very helpful in-fact deeply therapeutic.
Let Your Inner Child Come Out To Play
Every child needs lots of playtime, creative time, so does your inner child. So make sure you make time for your inner child, we are never too old for some fun, especially things you loved to do in your childhood. Spending time with children especially young children is a great way to nurture your inner child, to help some of those inner child wounds especially those abandoned inner child wounds. Ylang Ylang the inner child oil can support more creative flow whilst soothing the nervous system.
Heal Your Wounded Child
Get the support, the help you need to heal your wounded child, making sure you choose someone who is suitably qualified. Inner Child Therapy and Healing is something that should always be done in a very safe and effective way. And remember it doesn't matter how experienced a healer or therapist you are. We all need a little help to see those blind spots. I am a healer of 30 years and I still get help from other healers, therapists to support other aspects of my healing and my inner child. If you would like to learn more about my one -to one Inner Child Healing Sessions CLICK HERE
The Benefits Of Inner Child Wound Healing
When You Heal Your Inner Child Wounds You Heal The Adult You
The reality is when we heal our inner child wounds we heal the adult we are today, it helps heal our relationship not just with ourselves, but the world and those around us. Inner Child healing can help increase confidence, increase self-esteem and self-worth, encourage healthier boundaries and more effective communication in relationship. This doesn't just help our mental and emotional wellbeing but our physical wellbeing.1
Ready To Heal Your Inner Child Wounding?
Access to up to over £4000 worth of inner child, archetypal coaching and healing, meditations and so much more in the Quantum Level of the 👇Lightworkers Portal 👇 or book a deep dive 1-2-1 inner child healing session with Eileen