Why healing the inner child wounds can empower us and transform us.
Healing the inner child can be a very powerful way to address all sorts of forms of dis-ease, unhealthy beliefs, and conditioning that keeps us small, keeps us in sabotaging life patterns. How we experience and see the world as a child often shapes how we show up as an adult.  And this is no different for the highly empathic or sensitive child who can find the modern world a harsh place. Empaths and HSP's struggle to thrive in life because they have struggled to find healthy ways to survive and create healthy boundaries in their childhood.
No matter how healthy or unhealthy or childhood was we all can benefit from healing the inner child wounds that show up in our adult life. That form of archetypal and personality traits, that specifically keep us stick in the survival archetypal traits.
Healing The Inner Child If Your An Empath Or Highly Sensitive Person
So many HSP's and empaths struggle because of their level of sensitivity and heightened awareness.
Highly sensitive people are generally more sensitive to their own wounding and surroundings. The highly sensitive empath takes that a bit further and they will sense the energy and emotional pain of others and in places . Some of us also take on the energetic imprints or physical pain of others, when we haven't learned healthy boundaries and how to harness our spiritual and sensitive gifts. Many sensitives and empaths are the Spiritual Seers, the Spiritual Forecasters, Psychic, Mediums, Starseeds, Earthseeds and Wayshowers. Which comes with it's own difficulties and challenges.
Every HSP and Empath is unique but like everyone in life, they will also have their own unique gifts, own unique personal challenges and trauma healing the inner child can help us tap into those spiritual gifts we have shut down, learn how to harness or sensitive gifts in a powerful way.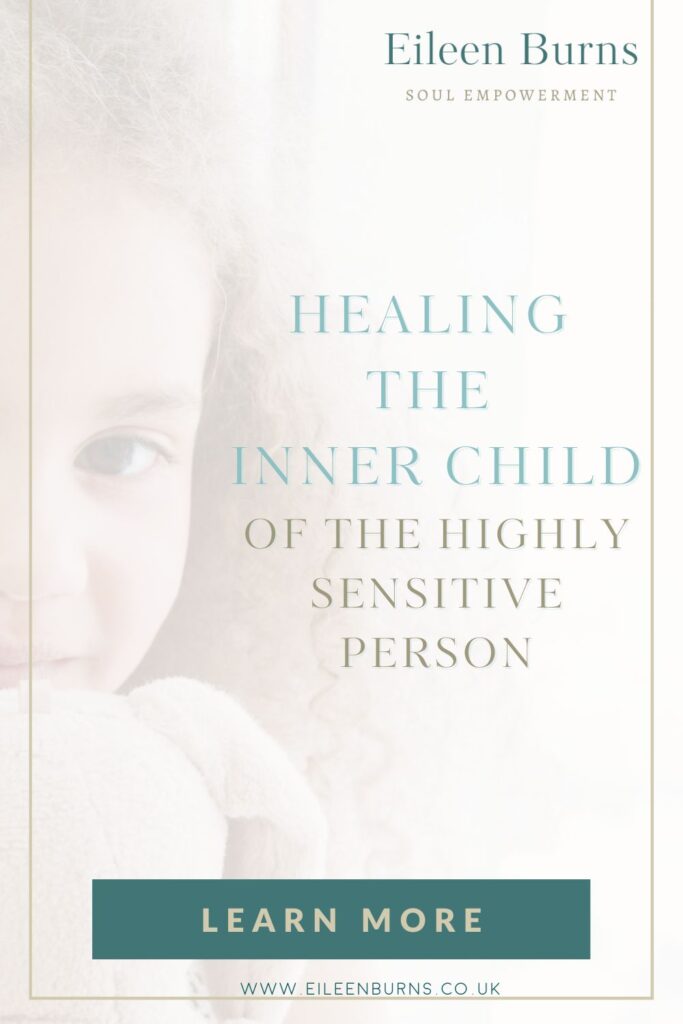 Inner Child Healing – The Highly Sensitive Child
 The highly sensitive child/person has such heightened awareness than those around them that they can see, hear, feel, and interpret things to a greater degree than most people couldn't imagine. The HSP child will often be viewed as too sensitive, too weak, too childlike, irrational, naive …
These natural gifts and traits often trigger fear and misunderstanding in the parents, siblings, and caregivers around them which is projected onto the child. They are often taught that who they are at a core level is flawed, bad, wrong, not enough. Told to toughen up, be brave, be bold, shut down their emotions, act differently; basically not be their sacred self.
Many highly sensitive children are highly empathic, intuitive and even psychic. This again can trigger tremendous fear in those around them which the child senses.  So much so the child will shut down their natural traits, their natural state of being. That is why inner child work is highly recommended for empaths and the highly sensitive person.
Soul Empowerment From Healing The Inner Child
So many highly sensitive people including highly sensitive children often don't know where they fit in. This can create a great degree of inner conflict especially when we are living in a very noisy, materialistic society. A culture that is often embedded with self-preservation and self-success than any on compassion and deep humanity for others around us. 
Inner Child work can be extremely healing for the HSP who struggles to honour themself and their sensitivity. It is spiritually empowering for the empath or HSP who can't say no and struggles with boundaries. For those who too easily take on other people's drama or pain.
In my one to one sessions and inner child programs for sensitives and empaths. I address different aspects of the inner child. Working on the wounded child, abandoned child, the eternal child and the more positive aspects of the inner child. It is extremely healing and empowering to address underlying triggers where you felt traumatised, abandoned or disempowered. Those experiences where we have shut down mentally, physically, emotionally, or spiritually.
Unlock Your Gifts From Healing The Inner Child
Clients and therapists experience many benefits and insights from inner child work. Even simply listening to inner child healing guided meditations that have been created by someone qualified to do. Because so many HSP's haven't learned to own and harness their sensitive gifts in a positive way. You may not recognise that some of your physical symptoms are just signs your gifts are trying to show up. Or maybe you need to start owning your power, your sovereignty.
Maybe you need to say NO? Stop allowing others to take advantage, control, or impose their beliefs or wants onto you. Maybe you need to put yourself first?  So many Empaths and HSP's are over givers, the wounded healer, victim, martyr, or rescuer.